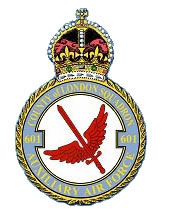 NOTE: WEBSITE IS UNDER CONSTRUCTION: A proper history will be put in place as time allows.

The following information was taken from the RAF website:
History

No.601 Squadron was formed at Northolt on 14 October 1925 as a light bomber unit of the Auxiliary Air Force. A nucleus of permanent staff was posted to the squadron and on 4 December the first Auxiliary personnel were enlisted. Flying did not begin until May 1926 and it was the following year before the Avro 504Ks were supplemented by D.H.9A light bombers. In January 1927 the squadron moved to Hendon, which was its base up to the outbreak of war, apart from a few days during the Munich crisis in September 1938. In November 1929 Waptis began to arrive and a year later had replaced all the D.H.9As. These were in turn replaced by Harts by June 1933 and on 1 July 1934 the squadron was redesignated a fighter unit. The Harts were retained until replaced by Demons in August 1937. In November 1938, No.601 converted to Guantlet single-seat fighters, but in January 1939 began to receive Blenheims. It was with these that fighter patrols began when World War Two broke out in September 1939 but in March 1940 the squadron had converted to Hurricanes. During the German invasion of France, a detachment operated from French soil for a week, followed by defensive duties during the Battle of Britain while based in southern England.
In February 1941, the squadron began taking part in offensive sweeps over northern France which continued until August, when re-equipment with Airacobras began. These proved useless and were discarded in favour of Spitfires in March 1942, but after only a few minor operations. In April the squadron sailed for the Middle East and re-assembled in Egypt on 25 June. Fighter sweeps over the Western Desert started a few days later and after the rout of the Afrika Corps at El Alamein, the squadron moved westwards to Tunisia, where it was present at the end of the North African campaign in May 1943. Next month it flew to Malta to cover the Allied landings in Sicily moving into captured airfields in mid-July. In October No.601 moved to Italy, where it spent the rest of the war flying ground attack missions in support of the Allied armies. On 14 August 1945, the squadron was disbanded.
On 10 May 1946 the Auxiliary Air Force was reformed and No.601 began to recruit personnel at Hendon in June. In October it commenced flying Spitfires, but moved to North Weald in March 1949 where it converted to Vampires in December. These it flew until re-equipped with Meteors in August 1952. On 10 March 1957, the Flying Squadrons of the Royal Auxiliary Air Force were disbanded and No.601 ceased to exist.
601 Squadron Association have their own website here
Please also see our page: The History of the Royal Auxiliary Air Force