Our very own Shobha Earl has been recognised for her outstanding work on both 600 Sqn and as a reservist in general, having been awarded the Queens Volunteer Reserves Medal (QVRM).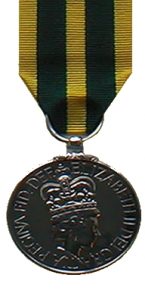 The Queen's Volunteer Reserves Medal was created by Royal Warrant of Queen Elizabeth II on 29 March 1999. Only 13 Queen's Volunteer Reserves Medals may be awarded in a year. The medal is presented only to members of the Volunteer Reserves of the British Armed Services for exemplary meritorious service in the conduct of their duties.
Shoba was presented with her medal by Prince William on Friday 15th June '18.
Congratulations Shoba and thanks for all your hard work for the Auggies !