Leonard Richard Moore died 09/01/15 aged 92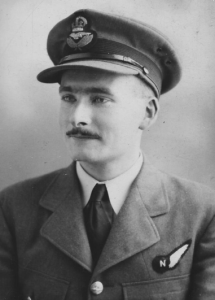 Born in Fishbourne, West Sussex in 1922 into a family of merchant seaman, it was whilst he was at Leeds University, where he was studying for the Priesthood, that Leonard was called up to join the RAF in 1942, aged 20.
He trained at Portage Le Prairie In Manitoba, Canada as an Air Navigator in Bomber Command. On his return to England along with a group containing a lot of newly trained pilots, they were asked to volunteer but not told what for. Leonard volunteered, passed more aptitude tests and was told to pair off with a pilot as they were going to be retrained as Night Fighters crews. He and his pilot, Gordon Hammond, passed the training and were sent to 600 City of London Squadron. He saw active service in North Africa and Italy.
One of their exploits can be read about in the January 2004 edition of the 600sq Association Newsletter under the storyline 'The Last Kill', where Leonard describes he and his pilot's part in the downing of the last German aircraft by tsecond FW when they were on their own after their escort's plane commanded by F/O Les Martin ran into engine trouble at take off on 13th April 1945.
At the end of the war he became acting Intelligence Officer of the Squadron.
After the war, Leonard returned to Leeds and the College of the Resurrection to complete his studies, where he met his wife Barbara to whom he was married for 62 1/2 years and who died last year. He was ordained and became curate of St Mary's Hendon followed by a move to Stevenage until 1960, when he then went on to be vicar of All Saints in Queen's Park, Bedford where he and his family settled. Since 1968 to his retirement in 1987 Leonard taught in Secondary Schools in Hendon and Kempston, Bedfordshire whilst also continuing with his ministry up until shortly before his death. He leaves behind two sons and a daughter.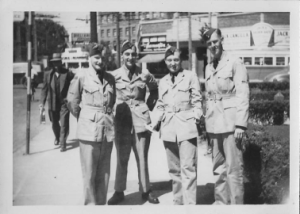 My father is at the end on the left.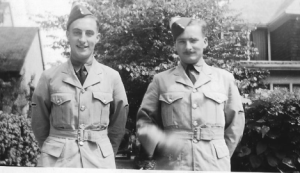 He is on the right with the cap at a very jaunty angle.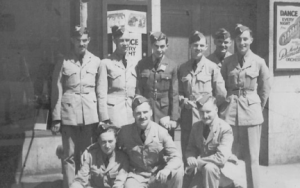 The formal shot he is front row kneeling on the end at the right. He had red hair!